LIFE SCIENCE LOGISTICS
We specialise in the storage, distribution, installation, relocation and safe destruction of all life science and laboratory instruments and consumables.
We are employed by some of the biggest names in the industry and work closely with their engineers to relocate and/or install new instruments into their laboratories. All of our teams are trained in laboratory health and safety working practices, this ensures an efficient, safe and secure service, meaning the laboratories can operate with minimal interruption and maintain their busy workload.
Storage
Our facility is modern, clean, dust free and secure. Our clients use us as their distribution hub, from all over the world, prior to delivery and installation.
Distribution
We have a global network of carriers and fleet of vehicles to ensure we can deliver products to anywhere in the world. Our freight forwarding team can advise and prepare all the relevant documentation ready for transportation.
Installation
Our teams are fully trained in the movement of highly sensitive life science instruments and use specialist lifting and moving equipment to ensure it's safe arrival and positioning.
Relocation
We assist laboratories who need to move rooms, building or geographical location. We can help with planning, issue your RAMS (Risk Assessment and Method Statement), move all equipment, instruments, office furniture, sensitive documents, samples and pathogens.
Safe Destruction
We manage the reverse logistics and safe recycling for all of our customers. This is done through a highly reputable company ensuring as much of the instrument is reused as possible. All instruments are decontaminated before removal from the laboratory and once destroyed and recycled a certificate is issued to the customer for their records.
CLIENT TESTIMONIALS
"After having worked with Expo World Logistics for the delivery, installation, removal and relocation of Qiagen robotics, I am always impressed with their professional performance. Every time I work with them I can be assured that it will go smoothly with no problems"

– Qiagen.
Call the LOGISTICS team now: +44 (0) 1732 866881
LIFE SCIENCE
Expo World Logistics provides a range of services to the life science sector. Our team is highly experienced in the removal, installation and relocation of laboratory instruments, medical devices, pathogens and samples.
In 2015, we were asked to relocate a laboratory of instruments, pathogens and samples for Public Health England (PHE) in Hereford, to its main facility in Colindale, London.
Our team's first visit was to work through a schedule for movement, inventory and to provide a risk assessment and method statement.
On relocation day the samples needed to be packed and transported in accordance with biological handling and within the shortest time possible in a temperature controlled vehicle. The instruments had to be decontaminated prior to removal and moved with great care and attention due to their size, weight and sensitivity.
On arrival at PHE Colindale all instruments were installed and samples transferred to Labcold freezers accordingly.
All of our team are highly experienced in manual handling, laboratory safety procedures and are issued with full PPE kit for all life science moves.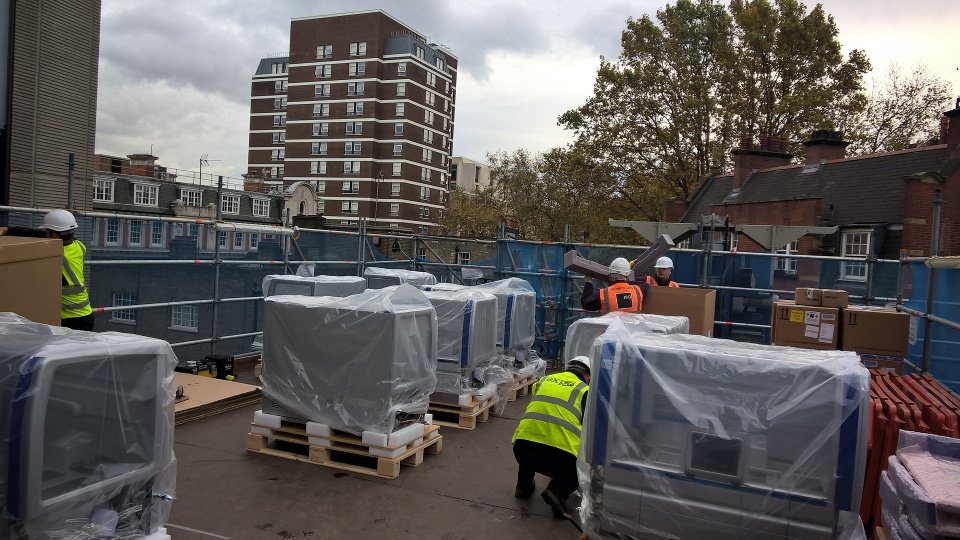 Expo World Logistics – Life science team installing 10 Qiagen Symphony systems and cabinets into the TDL Halo building, London
Expo World Logistics news
Expo World Logistics remain open to support our Life Science customers. Read More
Expo world logistics deliver elephant to artist katie sollohub. @elephant_parade http://t.co/7Y7SvNNFlV